Congratulations for the team of Agile Spain, for the Computer Sciencce School which lend its resources, and for the speakers who let to begin the conversation.The Open Space was a heavy success. Let the public choose the tracks more interested in, and create a great number of tracks (30):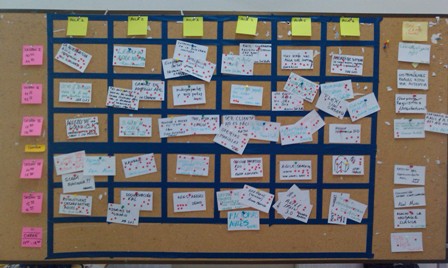 This let you create a conference which fits your level, interests, curiosities,… So, sue to the people professionalism, who has something to share speak, and who has not learn.
I learnt some things:
It is very difficult the change in the companies, you must be patience (I am not, I must think on it).
TDD: is a paradigm change in Software Development, you must programming from the test; we could say teh test are the requirements. And this join the Continuous Integration (continuous test).
bitnami.org: is a full Spanish project (they creates software stacks: php, ruby, alfresco, Liferay….). For somebody like me who loves probe all, this is very cool.
Amazon and their cloud is not a impossible thing, you can use it. And it can be useful, for massive tests in a short time slot.
The School resources supported very good the event, that is the best record for the resources.
So I began with curiosity for SCRUM, and finished with AGILE PASSION…
!!Thanks for all¡¡